Here at The Light Factory, we looove lighting. Modern light fixtures are what we live and breathe! 
Lighting is essential to any room, and a bubble light chandelier can instantly take a room's design to the next level. But we also know that it can be a little confusing. How high should you hang pendant lighting above a kitchen island? How far should you space fixtures apart? How big should they be? And what about dining room chandeliers, or foyer chandeliers, or hallway lighting? If you have an open concept space, should all the light fixtures match? What are the best options for short ceilings--or extra tall ones? We know there are many questions that come up...because we get asked them again and again! So today we're tackling some of our most frequently asked questions. Consider this your ultimate guide to hanging a glass bubble chandelier.
1. Which bubble light chandelier is the right size for my space?


This is crucial! If your chandelier is way too small--or way too large--it'll look silly. For dining room lighting, we recommend a bubble chandelier that's 50-75% the width of the table. We also love it when a modern chandelier echoes the shape of your table. Our Branch Bubble Chandelier works beautifully with a longer, rectangular table, while our rounded 45 Bubble Chandelier looks perfect with a round table. Deciding between two sizes?  Keep in mind that the delicate, clear glass bubbles don't add the same amount of visual weight as a heavy, iron chandelier so go bigger to make a statement!
When hanging a light fixture that's centered in the room (like in a bedroom, living room, or nursery), we have a quick and easy method to determine the right size: add up the width and length of the room and convert it into inches. For example, let's say your bedroom is 12 x 15 feet. 12+15 = 27, so look for a bubble chandelier that's roughly 27 inches in diameter. This is just a rule of thumb, so don't be afraid to break it! Depending on the design of the room and the height of your ceilings, you may want to go a little smaller or larger. 
The great thing is, our bespoke lighting is custom-made for you, so you can truly specify 
exactly
 what you want!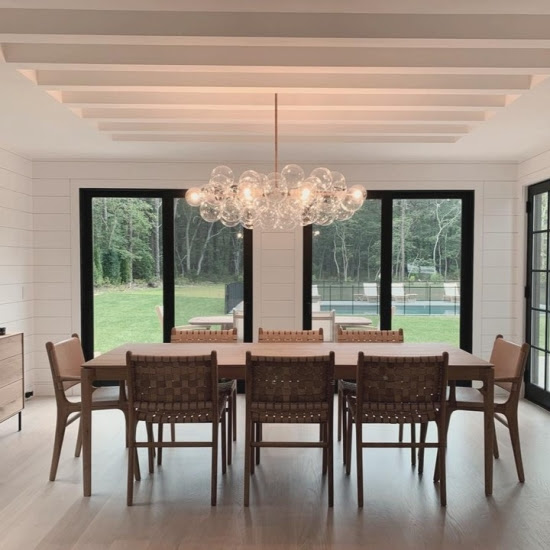 2. How high should I hang my bubble chandelier? 


For dining room chandeliers or pendant lighting above a kitchen island, the rule of thumb is to leave 30-36 inches of clearance above the table or counters.  Any lower can block your view, any higher and the fixture looks disjointed from the seating area.  If you have low/average ceilings (9 ft and under), it's best to err on the lower end of this spectrum. With taller ceilings (between 10-12 ft), go for the full 36 inches. For cathedral/vaulted ceilings, you can even go a few inches above this. If you're a visual person, one trick is to blow up a balloon and hang it from a piece of string at different heights. This will help you quickly see where the proportions look just right.
For bubble light fixtures where people will be walking underneath, we recommend 7 ft of clearance for ceilings 9 ft and under. For taller ceilings
, add 2-4 additional inches for every foot above 8 ft. For example, with 12 foot ceilings we would hang the fixture with 7 ft of clearance PLUS an additional 8-16 inches.
 We customize our bespoke chandeliers to the exact height you need for your space, so if you need something that's not listed on the product page, just let us know and we'll customize it for you! If you're still not sure, most of our fixtures can be trimmed shorter by your electrician during install. Height can't be added later, so err on the longer side to be safe.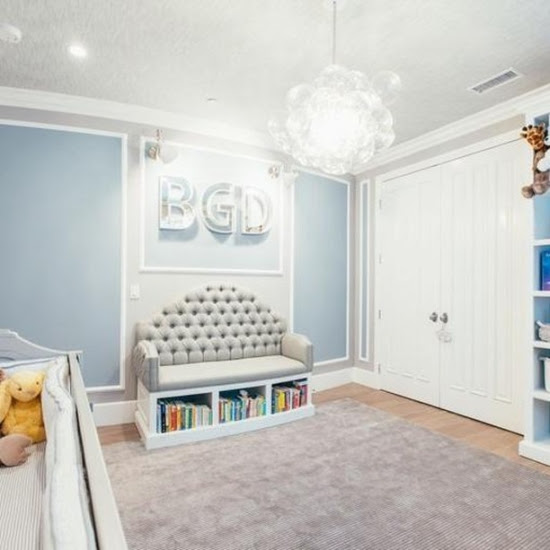 3. How far apart should I space kitchen lighting above an island?


We recommend leaving 6 inches on either side of the island, then spacing the chandeliers a minimum of 24 inches apart. Small islands look best with one large chandelier or two medium sized orb chandeliers. Larger islands (6 ft or more) look fabulous with two large chandeliers or three medium pendants.




4. What cord finish should I get for my glass bubble chandelier?


Our bubble chandeliers are custom lighting, so you get to choose the cord material and color that's right for your space! For a casual or coastal space, our knotted jute rope or cotton rope are great choices to add texture and soft color. Our leather cord is the best choice for high humidity areas, since the leather is naturally water resistant and treated. It's sleek and comes in ten different colors, so it works in a wide variety of design styles. It's a great choice whether you're looking for eclectic lighting, boho lighting, farmhouse chandeliers, modern chandeliers, or industrial lighting.




5. Should I match my lighting throughout the house?


The key is to make sure all the rooms flow together and have the same overall feeling. But that definitely doesn't mean your pendant lighting all needs to match. In fact, a well-considered mix of lighting is far more interesting and layered than one that's matchy-matchy. Of course, there are cases where it looks best for the lighting to match exactly, such as hallway lighting and kitchen pendants. But in general, you just want the look to be cohesive--especially with an open concept floor plan where you can see multiple spaces from the same vantage point.
To accomplish this, we recommend limiting the number of finishes to two or three, and repeating them more than once so they look intentional. Consider the finishes you already have in your home, like your door hardware, stair railings, kitchen knobs, and curtain rods. It's important to think about lighting in the context of the whole house to make sure it looks coordinated...but don't be afraid to have fun and mix it up too. A brass sconce and a nickel chandelier can look amazing together!
Besides the finish and material, another way to link different fixtures together visually is to look for ones that similar in era or style. These commonalities will ensure that your pendant lighting all "makes sense" together.
One more thing to consider when planning your lighting in an open floor plan: make sure your light fixtures aren't competing in the same sight lines. For example, you could do one branching bubble chandelier in the dining room, then a pair of pendants over the kitchen island.  




  6. How many bulbs do I need?


If you have additional lighting in the room and your bubble light fixture is mostly just for ambiance and design, then one bulb should be sufficient. Most of us, however, need our pendant lighting to provide a bit more illumination. If you have a small to medium sized space, we suggest 2-3 bulbs. In larger spaces, you'll want at least three bulbs (with additional lighting in the form of sconces/table lamps/recessed lighting).
Our Branch and Round Branch both offer six dimmable 60w equivalent LED bulbs, which is perfect for task lighting or dimming for a more intimate atmosphere. All of our modern light fixtures come with LED bulbs installed. To make sure they dim properly, please use an ELV (LED compatible) dimmer switch. If you've had problems with LEDs buzzing and flickering, this is the reason!  We recommend the Lutron Diva dimmer switch.




7. Where can I use a wall sconce?


Wall lights, like a bubble sconce, are a great way to add light and create special moments throughout the house. They can be used in nearly every room! Consider putting them on either side of the bathroom mirror (we love how the bubble sconce is playfully reminiscent of a bubble bath), or above a piece of art to instantly elevate its status. You can add kitchen lighting above the sink or counters, or clear up space on your nightstands by using sconces instead of table lamps. A wall sconce can also highlight built-in bookshelves or provide lighting for a reading nook. They're a fantastic lighting option!




In case it's not clear by now, we love lighting. Take the opportunity to put a memorable finishing touch on your design, make a bold statement, and use a material that the room is lacking (for parents of young kids, a bubble chandelier is a great place to incorporate breakable glass!). The right lighting will take a room from good to amazing. But even the most beautiful designer light fixtures can actually detract from a room if they're too small, hung too high, or disjointed from the rest of the house. If you still have questions beyond the tips listed here, send us an email! We're happy to help.